Meet the world's most popular versioning system. Again. Get to work quickly simply and reliably with change management and failsafe audit on Windows, Mac OS X, Red Hat/Ubuntu/SuSE Linux (i686,amd64), Solaris Sparc, HPUX or IBM iSeries OS/400. CVS Suite 2009R2 and CM Server 2008 deliver many new features which make it easier than ever to version any file you work with on your computer. Buy now for £85.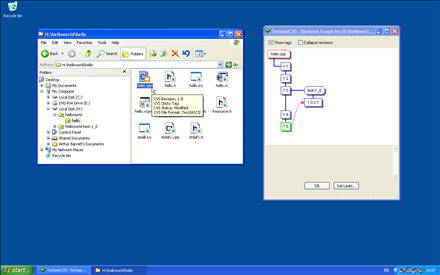 Tortoise. Experience the breakthrough new TortoiseCVS lets you work with files under CVS version control directly from Windows Explorer, even in Windows 10. With TortoiseCVS you can directly check out modules, update, commit and see differences by right clicking on files and folders within Explorer. You can see the state of a file with overlays on top of the normal icons within Explorer.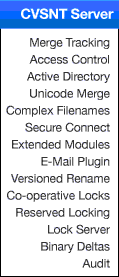 Advanced CVSNT Server
The advanced CVSNT server provides accurate and lightning-fast versioning of all the files on your Windows, Mac OS X, Linux and Unix workstations and servers. Any computer can be set up to run CVSNT server or you can connect to an existing repository elsewhere on your network or over the internet. The advanced versioning provided by CVSNT allows the files you have to be worked on in co-operation with other users and other computers on the network, and for the changes that are made by each person to be tracked. Several people can even work on the same files at the same time. At a convenient point in time commit your changes to the server and if necessry merge in other peoples changes too.
CVSNT is designed from the very beginning to support Multi Site development across wide are networks, plus all CVS Suite Servers come with built in Unison Repository Rreplication to allow you to synchronise your servers as often as you like efficiently and safely. March Hare Software also offer advanced repository replication solutions for our Multi Site Level 4 or 5 Professional Support customers.
New CM Server
The new CM Server provides comprehensive change management of all the files on your Windows, Mac OS X, Linux and Unix workstations and iSeries servers and supports a range of clients including Subversion, CVS and CVSNT.

Work Together
Working in a team means working on the same side. CVSNT is a team player - you can use it seamlessly from within tools like Eclipse, and you can choose a range of other applications to manage your work like WinCVS, TortoiseCVS and CVS Suite Studio. But working in a team also means communicating with others, so CVS Suite provides easy to configure plugins for Bugzilla, Mantis and Jira and even E-Mail notification.
If you want to work co-operatively with others then you can configure CVSNT server to allow multiple computers and different people to access the file at the same time, or set it so that each file will be accessed exclusively by one user at a time. You can even set up branches so that different people can work on a single file at different points in it's lifecycle, eg: release 1 needs an update at the same time as release 2 is being written.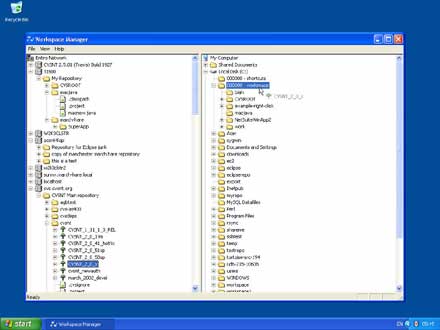 CVS Suite Studio provides an easy to way to browse the repositories on your local network and create Workspaces on your own PC. CVS Suite Studio simplifies the process of checking out a single file or checking out the correct branch of a project with thousands of files.
CVS Suite Studio will change the way you view CVS forever. Simply start it up and all the CVS Suite 2009R2 repositories on your network are instantly available for you to browse including modules, directories, files, tags and branches. If you want to begin work on a file or project, simply drag it to a location on your local workstation and you are ready to begin work.
You can now use CVS from directly within Visual Studio and other SCCI compatible IDEs. The CVS Suite SCCI integration faithfully implements the Reserved development methodology and makes for a great drop in replacement for Visual SourceSafe. Designed by the authors of CVS, no other Visual Studio CVS plugin has the level of integration provided by CVS Suite. If you want to use traditional CVS unreserved development then you can use a mixture of TortoiseCVS and the CVS Visual Studio Integration.
From CVS Suite 2009-6264 and later, you can download the native Integration for Visual Studio 2015 and Visual Studio 2017 direcly from the Microsoft Visual Studio Marketplace and Gallery. This is the first release of our native Visual Studio integration for CVSNT / CVS Suite. You can directly checkin / checkout from visual studio and see the results in the tool window. Note: Some workflows may not be currently compatible with this plugin, but we are looking forward to adding many additional features, and improving the workflow in the next release: CVS Suite 2.8.02.
Release Manager simplifies the process of deploying applications and web sites to remote locations. The in built CVSNT and FTP clients can be used to download, update or distribute versioned projects to servers located anywhere in the globe using public internet protocols or military strength SSH and SSL encryption. The Release Manager client can then tag the updated application server or web server so that a brief inspection of CVSNT repository will confirm that the updated versions of the files have made it to each of the deployment locations.
The included eBook "All About CVS: Designing and Building an Effective Configuration Management Solution" guides you through every aspect of configuring and using CVS Suite, including Fundamentals of CM, CVS Architecture, Designing your Solution, Setting up CVSNT Server, Server Administration, Command Line CVSNT, Troubleshooting, Administrative files, Installing Integrations and Client Connection and Configuration. Detailed client workflows are described for WinCVS, TortoiseCVS, CVS Suite Studio and Release Manager.

Work from Eclipse
Ecliipse and Webshpere Application Developer are a range of robust, full-featured integrated development tools, most commonly used for Java development. CVSNT server has been certified compatible with Eclipse 3.1 and tested by March Hare Software with Eclipse Indigo giving users access to significant performance enhancements, J2SE5 support and more.

Bonjour: Networking, simplified
CVSNT Server and Clients include the zero configuration Bonjour technology which lets you create an instant network of computers just by getting them connected to each other. CVSNT takes over from there, automatically broadcasting and discovering what repositories, protocols and authentication techniques each computer with CVSNT server is offering.
Continual Improvement
Most recent updates on November 20th, 2023. We are constantly working with new and long term customers to improve the product, keep up with modern operating system changes and security requirements, and fix bugs.